This is the green light you've been waiting for. It's time to work on your passion project.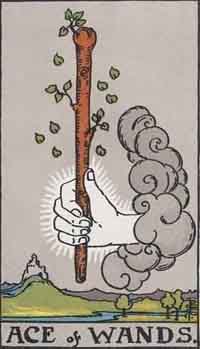 The tarot card of the day is the Ace of Wands.
A sprouting wand appears from a cloud above a fertile landscape. A castle is in the distance, and the entire image is resplendent with symbols of opportunity, growth, and burgeoning success. New ideas are springing to life and blossoming.
Rolling hills and distant mountains show there are always challenges to navigate, but these are achievable. Prepare yourself for the pivotal act that will trigger this heralded new beginning.
The Ace of Wands exhorts you to live your passion. It prods you to chase your passion if you are strongly drawn to a new endeavor or career path but feel unsure.
The initiation of an endeavor is imminent, and you have the motivation and inspiration to build your project to completion. It is time to take a bold step and embrace the prosperity awaiting you.
Wands represent fire, and you can view these evolving events as awaiting a spark of life. Like a bolt of electricity, ideas will spiral into life.
Inherent in your energy field is the lifeforce, spirit, and positive momentum calling for you to get underway in your venture.
Embrace Action
The Ace of Wands heralds great news. It beckons you to take action and get things moving. So grab your passion, inspiration, and ideas, and start work.
It is time to enter the fray. The period of research, planning, and considering is over.
If you are not feeling pressing urgency for your project the Ace of Wands depicts, then it is the time to urgently discover your hidden talent, which will bring a new view of life and prospects.
You can always start modestly, approaching the undertaking as an experiment or test. After that, continue if it feels right; otherwise, make tweaks and try again. Let your enthusiasm, commitment, and drive serve as your compass.
Now you need to be bold and embrace spontaneity. As if electricity is flowing through you, the magnificence waiting to surge forth will burst into being. A fresh start is brewing, and it responds to creativity, energy, and joyful endeavor.
You have spent enough time researching and evaluating. Do not engage in overthinking or procrastination that will hinder your momentum and squander your potential. The Ace of Wands is here to birth your most heartfelt ideas into reality.
Now is a phase to rely on your instincts and feelings more than thoughts. Use your inner guide to measure the value of your ideas.
What if your idea is not fully formulated? Don't wait for more analysis. Action sparks creativity, so harness your resources even if your concept feels premature. As you get underway, the project will reveal itself through the inspiration of higher forces.
Everything you work on will respond to this inspiration. You will be empowered to push through old boundaries and discover the potential in every experience.
Release Your Unique Creativity
Your creativity is at its peak, and there is magic in all you undertake. The wands are linked to individualized creativity. This means tapping into the uniqueness of self rather than following generic methods.
This new phase is about bravely finding your voice. Dig deep to uncover your authenticity, and the forces of new beginnings will respond. The universal electricity of bright ideas will rush forth to fuel your plans.
Be bold and step into new realms of creativity. Radical change will be rewarded, so experiment, swap out your tools, and throw away the rules.
Feel confident to connect with others within and beyond your field of interest. New beginnings extend to collaborations, so be open to where you find new ideas.
You are in complete alignment with your vortex of desires. Maintain connections between your inner and outer worlds to maintain the flow of abundance.
You are in a powerful phase of inspiration and opportunity. You can fuel the fire provided by the Wands through spiritual enrichment. Become more connected to your inner world through daily meditation focused on grateful acceptance of universal blessings.