You have been building inspiration around a new venture. Success is attainable.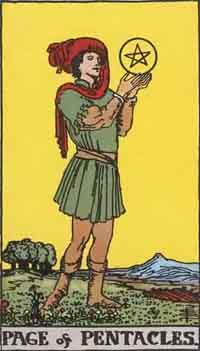 The tarot card of the day is the Page of Pentacles.
The youth stands on the fertile ground holding a gold coin and dreaming of future opportunities. Distant mountains symbolize challenges, but the plowed field shows the time is ripe for new endeavors.
The Pentacles group is known as messengers. It represents earthly desires, including career, finances, investments, education, and physical health. The youth in the field is signaling a clear path to success if you stay grounded and realistic.
You carry ideas as rich as cord blood, transferable to any setting you can imagine. The Page of Pentacles is your guide to setting the foundations of your venture. Now you must decide where your attention and energy will be directed and go for it.
If you make the right, informed decisions, you will surge toward your long-held ambitions. Like the youth holding the gold coin, you are young at heart and are looking toward prospects. It is time to recognize your abilities and use them to better yourself.
The planets are aligned, and the universe is beckoning you to take a calculated chance on manifesting your material blessings.
Invest in Learning
When the Page of Pentacles appears to you, it means you have tapped into your desires for the future. As a result, a new or renewed project related to a hobby, business concept, or study has emerged.
You feel excited about what lies ahead and are inspired and motivated to get things moving. The Page of Pentacles seeks to learn the skills to secure his future. You, too, are ready to build your knowledge and learn something new in your quest for success.
The Page of Pentacles is an invitation to join a new class, pursue further education, or work with a mentor. Educational endeavors will enrich your senses and fuel new opportunities even if you have progressed in your career.
As with the curing powers of core blood rich with stem cells, your plans are fertile and ready to be applied.
Do not be concerned about starting a venture in a new field of interest. The Page of Pentacles guarantees you the readiness and motivation to see the project to fruition.
The universe is guiding you. Results will come in balance with your inputs; accept the call and take a chance on manifesting your material blessings.
Take Realistic Steps Towards Your Goal
The Page of Pentacles compels you to seek your dreams. It is a sign of success, but only if you are realistic about what you plan to achieve.
The Pentacles are bounded to material things and reality, so encourage you to take considered steps. Success will not simply appear. Your dreams are as unique and valuable as core blood and will fertilize your well-formed plans into reality.
You are on the right track, but it will require dedication and perseverance to bring your plans to fruition. You may encounter some setbacks along the way, but if you remain focused on your goal, you will eventually reach it.
Make an effort to be methodical in your approach to each element of your plan. It is a time for delayed gratification as you work hard towards what you want to achieve. Be patient because all you invest now will lead you to your dreams.
The universe is supporting you in your endeavors, but you must put in the effort to make them a reality. Be guided by practicality and precise results. Draw on reliable advice, complete research, and plan your budget. Do not get carried away with whimsical fantasies.
Your inner and outer worlds are in sync with universal forces, making this a powerful time to focus your intention and create tangible results.
The Page of Pentacles gives you a clear sign to proceed with a new venture. Make the most of this momentum today by drafting your goals and objectives.
Start by taking inventory of your skills, assets, and resources. Then, create a realistic plan of action to be confident you can make the most of the positive energies surrounding you at this moment.