Allow today's stabilized energy to transform all aspects of your life.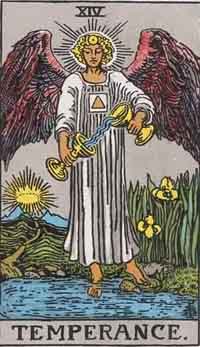 The tarot card of the day is the Temperance.
The winged angel is a manifestation of both male and female energy. The angel's robe bears a triangle encircled by a square to represent people constrained by Earth's natural laws.
The angel is in contact with the rock while floating above the water. This positioning signifies the need to stay grounded and in the present moment. The action of pouring water into two cups speaks to the flow and the alchemy of life.
Life's journey is depicted by a winding route leading to a mountain peak. The golden orb above the mountains represents being an ethical, moral, and authentic being.
Temperance encourages you to live a life of moderation, patience, and balance. You are becoming innately centered and powerful. Use these gifts for yourself and to donate time and energy to others.
The life force is permitted to flow through you without opposition or effort as you stabilize your energy. It's time to allow this flow and optimize order and harmony in your life.
Collaborate with Others
Alchemy is an intriguing theme with the Temperance card. The mysteries of nature are revealed when you blend, meld, and combine diverse elements to produce something new and more valuable than the sum of its parts.
Think about the beautiful diversity of a blended family. Or artists who combine several mediums into a unique work and cooks who combine spices into a curry that dances on your palate.
The Temperance card suggests that you have a distinct goal in mind and are aware of your objectives. It signifies advanced thinking and intuition, vital qualities for navigating life.
It shows that you are at peace with what you are doing and that everything is going according to plan. The Temperance card also indicates that you can adjust and get along with others, including your community, coworkers, and loved ones.
They feel at peace and comforted by your composure in all situations. You seem to have high empathy and tolerance, so little things don't bother you.
Spend time with others and donate your expertise to advance a cause. These are beautiful ways to invest your energies at this time.
Temperance indicates you are positioned to foster harmony and cooperation.
You are empowered to unite others. Any projects you have in mind will magically meld when you combine the ideal combination of diverse talents, experience, abilities, and skills.
Celebrate Inner Peace and New Opportunities
In moments of high drama and stress, you remain calm. In addition, you are someone who can navigate unpredictable events and instability. These traits allow you to progress in all areas you seek to explore.
When it comes to your career, Temperance advises you to set objectives today since you have the perseverance and patience to get what you want.
This is an advantageous period to collaborate and brainstorm with others. Sharing ideas will bring exciting rewards.
Temperance typically denotes positive things in every area of your life and indicates a special connection with someone. The two of you are functioning in perfect sync. Even if your romance is having some problems, you will get through it by being patient with one another.
It is a time of balance so beware of being too lavish or extravagant. Indeed, do not neglect your finances. Ensure anything you invest in or donate to is legitimate.
Temperance is a sign that your spirit guides are all around you and instruct you to pay attention to your inner guidance. Your mind, body, and soul all harmonize with one another.
Remember to be patient as you travel along your spiritual path and trust that everything unfolds just as it should.
You are in a powerful position of balance and alignment. This is a wonderful time to work with others as your energies affect everyone around you.
Today, consider a cause you are passionate about and can contribute to in some way. This contribution may be an advisory, caregiving, or another supporting role. You have much to impart to others.