Disconnect from your routine to get in touch with your inner self.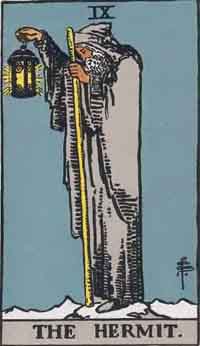 The tarot card of the day is The Hermit.
The Hermit can be seen standing on top of a mountain alone, holding a lantern in his right hand. The lantern has a six-pointed star inside, symbolizing the Seal of Solomon, a man known to be the symbol of wisdom or psychic dominance.
The lantern lights his way as he walks and shows him the path to take on his journey. However, because the lantern doesn't shine brightly, he must take a step forward before seeing his next step.
He has a long staff in his left hand to represent his strength and authority. He uses the staff to guide himself on his journey, and it can also act as a balancing tool.
The fact that he is on the mountain alone shows how mature he is spiritually. The Hermit has attained a high level of self-awareness and is on a journey of self-discovery.
The Hermit is a lone wanderer through the roads of the night, seeking wisdom that comes from within. His goal is to gain knowledge about himself and the universe around him.
To understand himself, he must disconnect from others, who often distract him with their thoughts and desires.
He walks through the darkness of his subconscious, guided only by the faint glow of the North Star, with his destination his home, his self, where he will find answers to all questions.
Listen to Yourself
When you are too busy, you lose touch with what really matters. You tend to forget that you have to stop and think about what you're doing and why you're doing it.
You have to listen to your heart and soul and follow your intuition instead of blindly following the advice of someone in your life.
Although it is good to be alone sometimes, you must be careful if you start isolating yourself from others. Your life will feel empty without them.
If you feel like you need to spend more time alone, think about what you could add to your life instead of just what you will subtract from it. Also, don't forget that you have responsibilities to those around you.
You only have the North Star's dim light to help you navigate through the pitch-black darkness of your subconscious mind. Your destination is your home, yourself. You are currently thinking about whether you should be alone.
Don't hesitate to use this time to reflect on your psychic condition since this is just what you need to get rid of the clutter that comes with daily life.
The Hermit might also refer to your efforts to take action that aligns with your true self and your search for guidance on what is just and where your next step is to be.
Be Wise
If you are single, the Hermit represents coming out of a period of loneliness or solitude that may have been necessary to recover from past heartbreak or a bad breakup. Soon you will begin a new stage in your life.
Let's say you have a committed romantic relationship. In that case, the Hermit could signify a mature, wiser partner who wants to spend time with you. It may mean that you should try harder to connect with them.
The Hermit can indicate that you and your partner may be too busy focusing on your interests instead of spending quality time together.
The Hermit is for people looking for purpose and fulfillment in their careers.
You may feel like you are not living up to your potential and wonder if you are doing the right things. Maybe you're considering a different job path. You may be questioning whether you should continue pursuing your current path.
Making a wise choice can be achieved when you take the time to consider your options.
Take some time off today to reflect on every situation you are currently facing. Re-evaluate all your options and you will get the answer. Meditate or clear your psychic energy right now because you may be rushing things.