Sometimes there is nothing to do to change the situation; however, you can still control your destiny.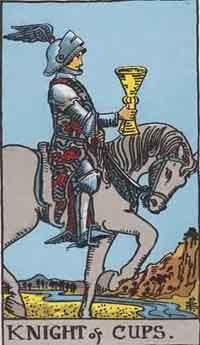 The tarot card of the day is the Knight of Cups Reversed.
A knight rides on a white horse. The knight is holding a golden cup, suggesting he has a message to deliver. He wears a cloak over his armor, covered with fish, symbolizing water, creativity, and consciousness. In addition, he has winged boots and a helmet, another symbol of creativity and how he appreciates beautiful things.
The image suggests that the knight moves slowly and does not rush into things. The horse in the image is a representation of energy and power, and its color is a symbol of light and purity.
The reversed Knight of Cups is a messenger indicating that there is something wrong with how you are handling a situation, perhaps because you are too trusting or too critical, for example.
If you see the Knight of Cups in reverse, it could mean that you are dealing with a difficult person or putting off what needs to be done. You might be avoiding confrontation, or you might be making excuses for someone else.
Your actions seem to be based on assumptions rather than facts, and you are letting yourself become emotionally involved. You may feel hurt or betrayed and may even want to withdraw from the relationship altogether.
You are probably feeling frustrated, angry, or disappointed. However, you must remember that this does not necessarily mean you are doomed to experience problems. Instead, listen to the messenger and allow yourself to become distracted from the real issues at hand.
Act-On Your Dreams
The reversed Knight of Cups indicates that there may be a creative project in the works, but you cannot take it on because you are not ready to act. Because you are not ready to act, you are always dreaming about how to make the project work.
Although it is always good to have great dreams, you must take the necessary action to make them work. For example, if you dream of owning a business, start finding out how much it may cost you in capital and time to make it happen. This will give your dream the weight needed to let you implement your ideas.
This card can also indicate that you are being jealous or moody. For example, you may feel frustrated because you are not getting the desired opportunities. This allows your emotions to control you, which is not good.
It is possible that you are not taking advantage of all the resources available to you. If you are having trouble making decisions, ask yourself why you are not acting. You must find a solution to your problem, regardless of the issue.
Control Your Destiny
The Knight of Cups in reverse is informing you that you may be in a bad relationship. It may mean that the relationship may end – maybe one person is cheating, or perhaps you don't love each other anymore. It could indicate a lack of commitment or even infidelity. It may also mean that you have not decided whether you should pursue a relationship with another individual.
Take heart if your partner doesn't seem interested in pursuing a relationship with you. They're probably just busy with their lives. Don't let your disappointment prevent you from moving forward. You'll know when you find the right person because everything will fall into place. Take care of yourself while you wait.
Also, if your relationship does not work, channel your energy into focusing on building yourself instead of focusing on your failing relationship. Before you realize it, the right person will come along to cherish you.
Write down three things you want to accomplish today. Then write down three ways you can achieve these goals. Finally, list three obstacles you might face. Now, think of a way to overcome each obstacle.