Speak with your inner child and allow them to lead the way.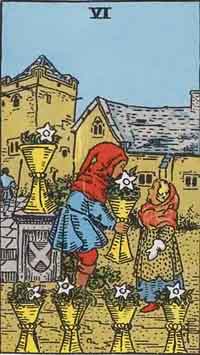 The tarot card of the day is the Six of Cups.
You may be feeling a bit nostalgic today, as the six of Cups often indicates a longing for simpler times. Childhood memories may come flooding back, and you may find yourself reminiscing about when you were young.
The two children on this card are standing in a flower garden. The castle behind them symbolizes the comfort and safety of home. The children play together peacefully, reminding us that we all have the capacity for innocence and joy. The girl hands the boy a flowerpot, representing the sharing of love and kindness.
You're experiencing nostalgia, happiness, and a longing for simpler times. You may be feeling a bit sentimental today, but that's okay. Sometimes, these memories can be a source of strength and comfort. Other times, they just make you smile.
It's an excellent time to reconnect with your inner child. Let them remind you how to enjoy life and all the simple things. As we grow older, we lose our childlike nature and can become bogged down by the stresses of everyday life. This is a reminder to pause and enjoy the moment.
Reawakening Your Creative Side
Now is the time to rediscover your muse and passion. If you've been creatively blocked, the Six of Cups can signify that it's time to get back to your roots. Take a moment to remember what first sparked your interest.
The pressures of the outside world can often cause us to lose sight of our creative side. We can become so focused on work and responsibilities that we forget to live and have fun.
So whether it's painting, hiking, or playing music, find an activity that brings you happiness and run with it. It will bring your soul back to life.
A Return to Innocence
You are about to experience a return to innocence. This may be literal, in the form of a new baby or grandchild. Alternatively, it could be a more symbolic rebirth, as you let go of old baggage and allow yourself to see the world with fresh eyes.
This is a time of wonder, hope, and possibilities. You may feel like anything is possible right now. But, just like a child, you are open to everything new. So, take risks and explore the world, don't be afraid. You may be in awe of what you find.
Think about your childhood dreams, who you wanted to be, and what you wanted to do. This is a time to recommit to those goals and pursue them with the same enthusiasm as you did when you were younger. Surrender to your imagination and let it lead the way.
Generosity and Giving
The Six of Cups indicates a time of generosity and giving. This may manifest as material gifts, but it can also be in the form of your time, energy, or attention.
Whatever form it takes, you are in a position to give freely and without expecting anything in return. You may be called upon to help someone in need or simply feel the urge to perform acts of kindness. Don't hesitate to give from the heart.
The world needs more love and compassion, so let yours shine through. Giving is its reward, so don't worry about what you'll get in return.
Today's Suggested Action
Someone needs that kindness today; you are the perfect person to give that kindness. So, give a cheerful heart and know that you are making a difference in the world.
Today, embrace your inner child and do something that brings them joy. It could be taking a walk in the park or playing with a pet.
Or, you may want to try something new and explore your creative side. It might be the perfect way to recharge your batteries and change your outlook.
Look back on your past fondly, but don't dwell on it. It was a part of your path, but it's not where you're going now.
Today is a new day, full of possibilities, and your inner child is guiding you to new adventures.