Let go of your emotional baggage so you can receive an abundance of gifts from a loving universe.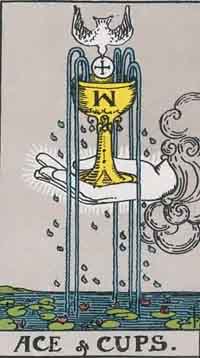 The tarot card of the day is the Ace of Cups
The Ace of Cups is laden with symbolism. The overflowing chalice is your subconscious mind; the flowing streams are your five senses. And these are held by the giant hand representing your awareness, spiritual energy, and influence.
The sea of lotus blossoms and descending dove shows that your spirit is awakening to divine love, which flows from your subconscious to your conscious mind.
You are a conduit for the unconditional, spiritual love of the universe. It runs like a software program through your entire being, enhancing your intuitive powers. As a result, you are infinitely blessed and bursting with positivity.
A safety net of love, security, and unity is wrapped around you. This is an opportune time to connect with others because your well-being radiates powerfully and enhances the spirit of those around you.
Make space for the wonder of what awaits. New beginnings are evolving, and you enjoy the intense energy of new relationships.
You will release old burdens affecting your spirit. If you have experienced loneliness, doubt, and uncertainty, let these emotions flutter away because a new chapter of wholeness and unconditional love is emerging.
New connections forged now have the power to bring a deep sense of satisfaction. This is achieved through close platonic friendships or transformative romantic love.
Both real and symbolic forms of love will affect you. You will experience joy, compassion, and heightened emotions. You can appreciate stunning beauty amongst the ordinary.
There's a high chance you will discover your life partner or another enduring relationship. You will renew your current relationships and enjoy a sweet sense of wonder about all aspects of your life.
Open Your Heart to Creative Expression
Take this chance to be open to the abundance of emotions that are now accessible. As a result, you are becoming more open to receiving creative opportunities, love connections, and profound compassion for other living things.
This card serves as an invitation to a high plane of existence. The Ace of Cups can bring about both spiritual and emotional fulfillment, but only if you accept it with an open mind.
The Ace of Cups appears when you are willing to express your creativity, especially when you can let your feelings emerge through everything you do.
Like upgraded software enhancing a complex system, you will be guided to forge new endeavors. Intuitive senses lead you to successful outcomes. You feel newfound confidence to share this creative aspect of yourself. Letting your creative juices flow will bring about new levels of enrichment, accomplishment, and recognition.
Trust in New Connections
The Cups represent your connections, intuition, and feelings. They encourage you to navigate emotions of love and commitment.
This phase suggests an intriguing new person in your life or the advancement of a current relationship. New connections are like software upgrades, uplifting and rejuvenating your whole being. Whether a friendship, a unique familial bond, or a budding romance, strengthening relationships enhances your spirit.
When you are in a loving frame of mind, affection comes easily. So, give yourself permission to accept and provide unconditional love.
The Ace of Cups also has an empathetic, charitable side. Make an effort to connect with those around you because you can lift people from feelings of unhappiness or despair. The sense of harmony you radiate emanates to others around you, allowing a profound shift in energy fields and the power of attraction.
The Ace of Cups symbolizes your readiness to receive the love the universe is sending your way in a spiritual setting. When this card emerges, you should experience a strong connection to the spirit, and you might discover that you have acquired new spiritual powers or gifts.
Your connection to universal love allows you to spread this joy to those around you. By engaging with those who need empathy and uplifting, you can break their attachment to suffering.
Animals can also benefit from these magical energies. So, spend time today nurturing the well-being of all the unique spirits in your life.