You are loved and supported.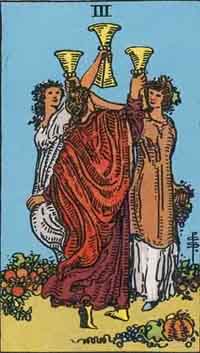 The tarot card of the day is the Three of Cups.
Time to party like it's 1999! Some good news is coming your way. Congratulations are in order and the Three of Cups is here to celebrate with you.
In the upright position, the Three of Cups shows three young women dancing in a circle and raising their cups high in the air. They look to one another with appreciation, honor, and respect. These women are bound by their emotional connection and friendship.
Meanwhile, the ground is layered with flowers, fruit, and a healthy green vine, representing fertility, growth, and abundance. There is plenty to go around, so everyone can enjoy the bounty.
In a reading, the Three of Cups can represent an event or time period that was filled with happiness and celebration. It's about feeling connected to others and sharing in the joy. If you've been feeling disconnected or lonely, this card is a reminder that you are loved and supported. Reach out and connect with those who make you feel good.
Time to get social.
You can be a homebody who is only leaving the house when necessary. That's great! However, the Three of Cups is a card of sisterhood, community, and collaboration. It is a reminder that we are social creatures who need the love and support of others.
We all have a tribe, even if it's just a few close friends. Plan a girls' or boys' night in or out, go to that party you've been invited to, join a Netflix streaming party, or start your own at your house. The point is to get together and have some fun.
Not feeling very social right now? Maybe it is because you've had problems with your social life. This card can signal the end of those hardships. Meaning you will be able to resolve differences and learn how to deal with the problem.
Teamwork makes the dream work.
When the Three of Cups appears in a tarot reading, you are encouraged to gather with your closest friends and have a good time together. But what if you can have a good time and create something together?
The Three of Cups is a reminder that we are all interconnected. What one person does affects the whole. When we work together, we can achieve anything. This is a great time to join forces with like-minded individuals. Collaborate with others on a creative project and inspire one another to reach new heights.
So, let's get some ideas! Are you an artist who is looking for a creative outlet? Are you looking to get involved in your artist community? This is the time to take action.
If you are currently working on a group project, the Three of Cups asks you to check in with your team. Make sure everyone is on the same page and working towards the same goal. This is a time to come together and support one another.
Celebrate your relationships.
The world has changed so much in just two years. Time in isolation has made us realize how important our relationships are. Deep down, you may have been feeling disconnected from your friends and loved ones. The guilt is starting to set in because you haven't talked to them in weeks, maybe even months.
First of all, don't be so hard on yourself. Surely, you also have your own things to deal with during these hard times. It is good that you at least realize you need to reconnect with your friends.
Second, the Three of Cups is a reminder to take a step back and appreciate the relationships you have in your life. This doesn't just mean the people you are romantically involved with, but also your friends, family, co-workers, and anyone else who plays an important role in your life. Let them know you are thinking of them and that you appreciate them.
Now is the time to let loose, have some fun, and enjoy the company of others. The Three of Cups is here to remind you that life is meant to be enjoyed with those we love.
Right now what you can do is to make a group chat with friends. If you already have a group chat, sent a message saying you want to have a group video call. Where you can talk about your weeks and catch up on each other's lives. Make sure everyone gets equal time to share their stories. You may be surprised to learn new things about the people you've known for years.