Take some time to reflect.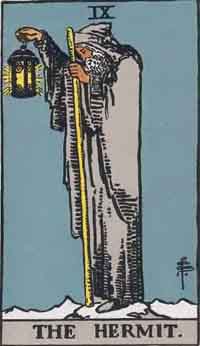 The tarot card of the day is The Hermit.
You have had a lot on your plate lately, leaving you with little time to introspect. The Hermit is urging you to set some time apart for reflection.
The Hermit is standing on the mountain peak with a lantern in one hand and staff in the other. He walked up the mountain in solitude to drown out the loud voices that kept him from hearing his own voice. Like The Hermit, you need time alone for some serious soul-searching.
Step back from your current situation and examine it from a distance. Are you on the right path? Are you listening to your own inner voice, or are you being influenced by others?
Take a break from socializing and being around other people. You need this time to yourself right now. Though it might feel like you're alone, it's actually a good thing. Use this time to focus on yourself and your needs.
If you're feeling lost or unsure of your next step, The Hermit can help guide you. He's the symbol of introspection and intuition. So, trust your intuition during this time, and you'll be led in the right direction. If you've been neglecting your spirituality, now would be the best time to reconnect.
Look within yourself to find the answer.
The Hermit represents introspection, self-discovery, and internal redirection. This is a time for you to look within yourself for the answers to your questions. Reflect on what you want and how you can get there. The answer is likely already inside you; you just need to find it.
Trust your intuition, and don't be afraid to explore new ideas or paths. With patience and endurance, you will find the answers you're looking for. Follow your heart and instincts during this time – they won't steer you wrong.
Embrace your spirituality.
Silence and isolation are essential to experience the divine. Similarly, The Hermit withdraws from society in order to reach the light within himself. Spend some time alone in nature and devote yourself to your spiritual practices.
The Hermit is here to remind you that the journey to enlightenment starts with self-analysis and contemplation. Remember, there's no need to rush; the journey is the destination. Be patient and gentle with yourself as you explore your inner space.
You must be willing to work for the answers and not give up when they are not revealed to you immediately. The key is to trust in the process and have faith that everything will eventually make sense. Everything happens for a reason, even if we don't understand it at the time.
If you let it, the universe will guide you to where you need to be.
Seek wise counsel.
If you're feeling lost and uncertain of your next steps, it might be helpful to seek the counsel of a wiser person in your life. If you don't have one, try reading about philosophy, religion, or any other spiritual topic that interests you.
Alternatively, lookup advice columns online or in magazines. A small, trusted company of like-minded spiritual people can also help you complete this journey in solitude.
By shining a light on your soul, you can forge your own unique path. You'll have enough vision of what's ahead of you to know where and when to plant your feet next, though not enough to see your complete life path. The best approach is to take one step at a time.
Some of your values, ambitions, and aspirations are bound to evolve as you get a more spiritual perspective on your life. For example, you will feel the desire to withdraw from the unbridled materialistic culture in society to focus on your inner world.
The Hermit appears in your reading as a spiritual mentor who can assist in lifting your vibrations and enlarging your horizons. This mentor will urge you to dig within yourself for the answers you seek because he is a master in his profession.
Take some time to get away from the noise and distractions of everyday life, and explore your thoughts and feelings. Don't try to rush or force things - the answers you're looking for will come in their own time. Stay true to yourself and show kindness and compassion towards others, even if they don't always return the favor.
Cancel your non-urgent plans today and take time for yourself. Things can wait. Today is a day to stay home or wander in nature, by yourself, and reflect. Write in your journal, do a meditation, and move at a slower pace. Tomorrow, you'll wake up with the answers you've been seeking.