There is a possibility of a new beginning having to do with your job or home soon.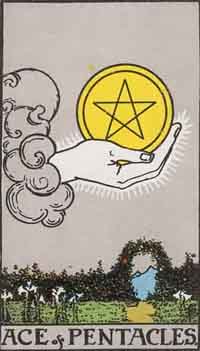 The tarot card of the day today is the Ace of Pentacles.
When the Aces of Pentacles shows up, it is a sign that new beginnings are on the horizon and are waiting for you to make the right moves to begin them.
The new beginnings the Ace of Pentacles speaks of have to do with material wants and needs and security. The main focus it brings today has to do with new beginnings in your work and career life or with homes and where you live.
To learn more about what new beginnings are just around the corner and waiting for you, continue reading.
New beginnings are on the horizon for you.
When the Ace of Pentacles makes an appearance, it's a sign things are very close to changing for the better in your life. It's up to you to trigger the butterfly effect leading up to those changes.
The Ace of Pentacles asks you to keep yourself open to change and trust that it will do you good in life. These changes are evolutionary stages in your life. They will bring positivity and bigger and better things that'll help you grow as a person.
What changes might be coming to your work and career life?
The new beginnings that are soon coming to your life may do with your professional life. Your work and career life may see a positive change and potentially open many more doors for you.
Have you wanted a promotion at work? The Ace of Pentacles says that it could just happen for you. Keep up the good hard work and even do a bit of extra work and effort so that you can impress the higher-ups at your job.
Alternatively, you could get offered a completely new job. Maybe you haven't loved your current job lately and have been looking around for other options. The Ace of Pentacles says don't be shy and apply to any job that appears more appealing to you. You may get hired and finally be able to leave your unhappy work life behind.
Or, if you are currently not employed, the Ace of Pentacles suggests that an exciting new job opportunity may be lying just around the corner. It would be best if you put in your share of effort, though, to reach it. So, remain open to the possibilities, and don't be afraid to put yourself out there more. You never know who's watching; it could be your future boss.
The potential for experiencing new beginnings in different homes.
The Ace of Pentacles could also mean that you're about to experience new beginnings in different homes! Although changing the place you live can be nerve-wracking, the Ace of Pentacles says it could be a nice change for you.
Whether you move out of one of your family homes, upgrade from an apartment, or downgrade from a large empty home, it will be like a fresh start. The Ace of Pentacles wants you to roll with the changes. Working against them will only cause tension and friction in your life.
Think of these new beginnings as a blessing!
How to prepare for new beginnings in homes or at the workplace?
The Ace of Pentacles wants you to remain open and enthusiastic about the changes that are about to occur in your life. Be sure to keep an optimistic attitude, as you attract what you put out.
Trust that these new beginnings will do you good and bring much more joy and opportunities for growth into your life.
Remain open to the possibilities; you may end up loving it even more!