You could be hosting a happy event soon.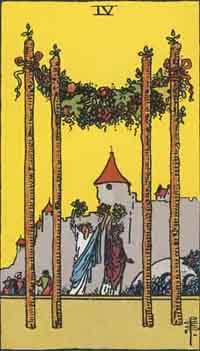 The tarot card of the day today is the Four of Wands.
When the Four of Wands shows up, it's an indication that an event regarding something joyful and lovely is just around the corner. This card is also suggesting that you will be the one who is hosting this event.
The Four of Wands usually hints towards the approach of something that will require a grand celebration of some sort. It usually involves people coming together and has a love theme.
When things come to light, and you feel the need to celebrate something with friends and family, the Four of Wands suggest that you should be the one hosting the celebration event. It's a great thing to feel happiness for others' achievements and announcements.
It's about time you get in touch with your empathetic side and act upon it.
What kinds of happy events could you be soon hosting?
The Four of Wands is encouraging you to step up and be the one hosting these celebration events. Whether for your friends or family, show them how happy you are for them and throw them a tremendous celebratory party.
Here are some of the events you may soon consider hosting.
Throwing an engagement party.
Have any of your close friends or family members recently announced an engagement? If so, the Four of Wands suggests throwing them a lovely engagement party to celebrate their love and happiness.
It's never a bad idea to celebrate the love of two people coming together and planning a future together, especially if it's for someone close to you.
Helping with hosting a wedding.
Weddings are significant events that require a lot of planning. The Four of Wands knows this and suggests that you consider help hosting one. Weddings are beautiful celebrations of love and union, and involving yourself in the event of one will bring you and the newlyweds feelings of great joy.
An anniversary celebration.
Is the anniversary of something important coming up in your or your friend's and family's life? The Four of Wands suggests you find out if there is one and offer to be the one to help out with celebrating it or hosting it.
Anniversaries are milestones that deserve to get celebrated. Whether it be the anniversary of two people coming together, an important goal getting reached, or any other significant life achievement. The Four of Wands wants you to be a part of the celebration and show your pride in it.
How can you help with hosting and celebrating these happy events?
The Four of Wands is calling on you to share your joy and happiness for the loved ones in your life and help them celebrate great things happening in their lives. Here are some of the ways you can offer your support and congratulations.
Celebrating the engagement of two people.
Suppose a close friend or family member has recently announced their engagement. In that case, you can show how happy you are for them by throwing them a lovely engagement party.
It doesn't need to be anything fancy. Even a simple dinner with a toast will be the perfect way for you to express and share your happiness.
Helping out with wedding arrangements.
If you know of any friends or family members planning to have a wedding soon, offer your help and support.
Weddings can be costly, so you volunteering to help them celebrate their love free of charge can also lift a huge weight off their shoulders.
Planning an anniversary surprise.
If you know of an anniversary coming up between two people, help one of them out with surprising their significant other for the occasion. It will make it so much more special for them, and they will greatly appreciate your efforts.
Or, if you know the anniversary of a significant event or milestone of a close friend or family member is coming up, surprise them with a special congratulations party or gift. Show them you're proud of them and how far they've come in life.