Cryptocurrency may be key to manifesting your dreams.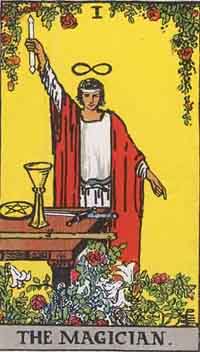 The tarot card of the day today is the Magician.
The Magician is a representation of the power you hold within yourself to manifest your dreams into a reality. The Magician is a master in his craft. He uses his passion and knowledge of alchemy to figure out ways he can succeed in life. When this card appears, it's a reminder that you, too, have those abilities.
The Magician is here to help guide you as you discover what you have the power to do. You have access to tools that will help you generate wealth, such as cryptocurrency. Teaching yourself how to use them and make the most out of them is much easier than you would think.
The Magician wants you to take advantage of what you have before you. Once you do, you'll be able to go out and get whatever you want.
Can cryptocurrency be used as a powerful manifestation tool?
The Magician wants you to know you have access to the power of manifestation. Manifestation can come very easy, as long as you know the right way to harness its abilities.
Manifestation isn't just hoping, wishing, and affirmations, like many people often believe. It involves you believing that you can achieve your goals and the confidence that you 100 percent will.
In order to gain the confidence needed when using the power of manifestation, the Magician says that you need to have the right tools.
One tool that is surprisingly easy to use and is accessible to you is cryptocurrency. With proper research, you can easily use cryptocurrency to generate wealth and manifest your material goals.
Here's how you can do so.
Three main mechanisms to earn money with cryptocurrency.
There are many strategies and techniques used to generate wealth with cryptocurrency. Here are three main mechanisms that get investors use for most of those strategies.
Use the exchange market.
You can use the crypto exchange market to earn money by investing and trading, just like publicly traded stocks. There are many verified apps that help make it super easy for you to manage your portfolio from your smart phone.
Lend or stake your coins.
If you currently already own any coins, you can stake them or lend them out to other users or the system.
Blockchain system participation.
You can earn by either mining or doing work in the system and getting coins as a reward for your work.
Six strategies you can use to generate wealth using cryptocurrency.
The Magician wants you to consider using cryptocurrency as one of your manifestation tools to generate wealth and make your dreams a reality. Learning how to use this tool is quite simple, and there are many strategies and techniques used to earn money with it.
Here are 6 of the main strategies used for generating wealth with cryptocurrency:
Investing, which is an excellent long-term strategy with a lot of earning potential.
Mining, which requires you to have hardware that's specialized for doing so.
Trading, which requires you to analyze charts in order to trade at the correct times.
Creating content related to cryptocurrency, will have many businesses and platforms wanting to buy it for their social media pages.
Staking, which requires you to have your coins locked up in a cryptocurrency wallet and then allow a Proof of Stake network to use them for transaction validation.
Lending, which involves you lending your coin to other users and then adding an interest rate for doing so.
Manifesting wealth with your newfound tool.
The Magician wants you to know that even if you are a complete beginner, using cryptocurrency to generate and manifest wealth is not impossible. It suggests you look into the basics of it and give it a try.
You never know; you could get lucky and have your dream made a reality!