🍀 YOUR LUCK TAROT TODAY 🍀
Today is a great chance to embark on new adventures and take calculated risks to achieve your biggest goals.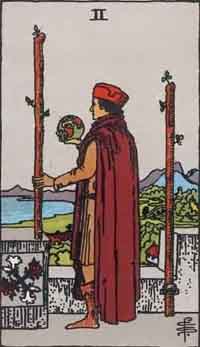 For this luck reading, you drew the Two of Wands.
The Two of Wands indicate that the stars are aligned in your favor! You are currently in a powerful position to achieve your wildest dreams and make positive changes in your personal and professional life. This is your moment to take charge, and to go after what you truly want.
The Two of Wands usually means that you're moving forward, growing, and taking calculated risks. This could be seen as a good thing. This card promises that today will be full of opportunities for you. Whether it's in your personal life or career, today you should keep an open mind and be ready to embrace new adventures.
You never know what's around the corner! Maybe your best friend will introduce you to your future partner, or you'll get a spontaneous job offer that you never expected. Whatever it is, it's important to seize the moment and take action.
Explore New Possibilities
The Two of Wands also suggests that you may face some important decisions today. You might be at a crossroads in your life, and it's time to choose the path that is right for you. Trust your instincts and follow your heart. Consider all of your options carefully, and don't be afraid to take risks. Remember, the greatest rewards often come from the boldest choices.
To really make the most of today, why not step outside of your comfort zone and try something new? Take a chance on that creative project you've been putting off, or sign up for that dance class that's always caught your eye. You might find that embracing new experiences brings you good luck in unexpected ways.
In short, today is your day to shine! Keep an eye out for opportunities, trust your instincts, and be open to new experiences. By doing so, you may find that you achieve your wildest dreams and bring good luck into your life in the process.