Everything falls into perspective when you reconnect with your spirit and all that exists inside your heart.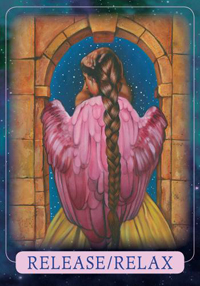 Indigo Angels Oracle Cards by Doreen Virtue
Life is never a bed of roses. You may get stressed, anxious, and exhausted from work, chores, and family life. Your Angels want you to know that it's important to take time to rest and relax. Give your body, mind, and soul the opportunity to rejuvenate and connect with the Divine.
Relaxation is not only for the body, but also for the mind and soul. Your soul needs rest the same way your body needs sleep to recharge and carry out its functions. You can't keep pushing yourself without breaks and rewards.
The Most High is proud of your tenacity and wants you to know that you deserve a spiritual timeshare. Take care of your mind and soul and rejuvenate your inner energy.
Spiritual Timeshare
A hectic life can cause you to spend less time on yourself, neglecting your spiritual well-being and balance. Spiritual timeshare gives you the opportunity for self-reflection and self-discovery. Holistic teachings, healing, and spiritual practices can help you reconnect with the Most High and enhance your spiritual balance. This can give you a sense of purpose, self-fulfillment, and a clearer perspective on life.
A spiritual timeshare is a period of relaxation; a time to focus your soul away from stressors. Like a physical timeshare, it gives you space away from life stressors, negative energy, and distractions.
You have time to care for your soul through meditation and strengthen your connection with the Divine. A spiritual timeshare is like grace, healing your soul from its pains. You also have the opportunity to choose positive energy and connect with like-minded people who can be a source of comfort and support during life's ups and downs.
If you're struggling with work or other issues that may hinder your healing, ask your Angel for guidance on the best time to meditate or have a spiritual healing retreat. Listen carefully to the guidance you receive.
Give Yourself Time for Healing
Setting aside time for yourself is essential to restoring your inner peace and energy. Focus on healing yourself through meditation and healthy habits. Consider enjoying a cup of coffee and your favorite music in the comfort of your home. Take a refreshing shower or a warm bath by the light of candles with a pleasant fragrance.
Sometimes, your immediate environment may be the source of negativity and distractions. Consider stepping out of your comfort zone, renting a hotel room, or visiting a secluded place of worship. This can get you away from distractions and give you enough space and time to communicate with your Angel and heal your mind and soul.