You have something special and valuable within yourself. Look for it, embrace it, and share it generously with others.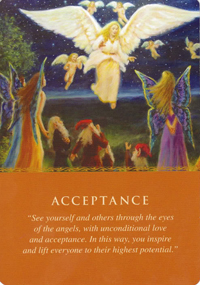 Daily Guidance From Your Angels by Doreen Virtue
Negative thoughts and energy can sometimes weigh you down and discourage you. Life's challenges can make you feel like your life is not valuable and that nobody cares for you.
However, the angels see you as the most valuable thing ever created. Your Creator is a mighty Lord of Wonders who creates perfection. Therefore, no mistakes were made when creating you. To become a victorious overcomer of life's negativities, simply get up, believe, and seek guidance from your angel.
How to Deal with Negative Thoughts and Low Confidence
Living with low self-esteem can hold you back in life, like driving a car with your foot on the brake. Low self-esteem can prevent you from making progress and reaching your goals. Your self-image and self-perception play a big role in this. Keep in mind that what is within you is more important than what is behind or in front of you.
Your perception is like your eyes in the spiritual world, processing everything just as your physical eyes do in the physical realm. It has a direct influence on your self-image, emotions, inner energy, and ultimately your mind and soul. When you have low self-esteem and believe your life is doomed to failure and rejection, negativity begins to cloud your mind, causing you to feel sad, worthless, and discouraged.
We can all fall prey to negative thoughts and feel that we are beyond recovery. However, we can seek guidance from our angels and believe that we are treasures in this world. Our angels can help us regain our spiritual clarity and recognize our true worth. By doing so, we can see ourselves the way our Creator sees us and gain a greater understanding of divine reality.
Negativity, fear, anxiety, uncertainties, failure, and hopelessness are obstacles that can keep you from achieving your goals. It's true that you'll face resistance every day, but you can overcome it and rise above the circumstances that bring you down.
Embracing Your True Worth
The most significant mistake people can make is not recognizing their identity and value. Once you understand your true worth and the invaluable potential within you, you can achieve greatness beyond measure.
Remember that you are valuable no matter what situation you are facing in life. Even when things seem negative or difficult, you are never worthless. You are a treasure, and God has given you strength, power, creativity, abundance, and dominion.
Once you acknowledge this truth, you can achieve unlimited success in life. With belief in your potential and unique gifts, you can accomplish anything. It's also important to protect and maintain the value of your gifts. Consistently work on improving yourself physically, mentally, and spiritually. Develop a plan for personal growth and ensure that your gifts appreciate in value over time.
Strengthening your soul is important to being open to the light of the Angels, which brightens your soul. To do so, open your heart, communicate with your angel, and believe. Your future is full of amazing opportunities, so keeping your faith is key to recovering your self-esteem and self-image. Strengthening your mind and soul can provide you with steady support for your mental, spiritual, psychological, emotional, and intellectual health. The stars are aligned in your favor; it is time to start your journey to recovery.