Those that belong to you will find their way to your arms.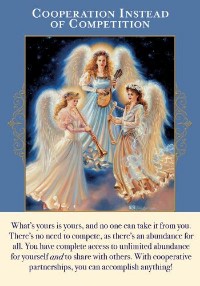 Angels of Abundance Oracle Cards by Doreen Virtue and Grant Virtue
Today's message is all about sharing instead of competing. You may be working hard to succeed right now, but it doesn't mean you shouldn't enjoy the journey to get there. Keep in mind that you'll never have to endlessly chase something if it's really meant for you. It might be about your dream job, your college degree, your business, or even your lifetime partner—still you are advised to cooperate instead of competing.
Let your angel help you find the people that are meant to be in your life.
Sometimes, it may be hard for you to be cooperative with people because competition is natural in our careers, the corporate world, in businesses, in relationships, with our friends, or with any part of our lives. Getting that dream job or receiving praise because of your degree and academic accomplishments is indeed very flattering—who doesn't love compliments, right?
But then, in order to have those things, there's no need to rush or prevent you from enjoying the whole journey. Usually, in order to climb up the high wall triumphantly, the best thing to do is to help each other. Uplift other people and they will also reciprocate. One good deed deserves another and paying it forward is an excellent practice.
Look at the world we're living in now. New technologies are being discovered. The power of the internet has taken the world by storm. There are so many things you can do without pushing yourself to be in a field that you're not meant to be. Online education is something that many people are pursuing these days.
Through online education platforms, you can develop your skills as you have the freedom to get the course you like. Here, you can also find people with whom you can collaborate while you're on your way to success.
There's no need to follow the path that most have forged before you because you are unique—and you're meant to carve your own destiny. Let the angels guide you on the road you're supposed to march on. Ask them to direct you to people you can work well with, until you achieve what you're aiming for.
Cooperating and collaborating with other people don't just happen in situations like online education or on another virtual platform though. It's also applicable when you're doing it with people who you can actually interact with in person. It may also be with your friends or your neighbors whom you frequently see.
Divide the work and get multiplied success by cooperating with others.
It's not only in certain tasks that collaborating with others is needed. Cooperation is essential for society to grow and function well. Competition may even lead to resentments, if it's not a healthy one. However, teamwork will eventually lead to victorious outcomes which can bind people together.
Today, as you prepare yourself for work, school, or for anything you need to accomplish, ask your angel for guidance. Let go of the competitive mindset if it's not a healthy one. If there's really someone you need to compete with, it's yourself. Be better than who you were before. Track your own progress without comparing your life to others.
Today, your angel wants to remind you that life is better if you have someone to share your highs and lows with. No matter how rich you are, how lofty your degree is, or how respected you are in society, you will always need to work with other people. After all, no man is an island. We all need each other.